When a woman has backaches and other pregnancy-related discomforts, she may wonder where to turn to for pain management. Many medications can harm your developing baby, so a traditional doctor may have little to offer you in terms of pain management. However, you can opt for care from ChiroLove Spine & Wellness Center, serving Secaucus, NJ, and the nearby region. Before you do though, you should take the time to understand more about prenatal treatments.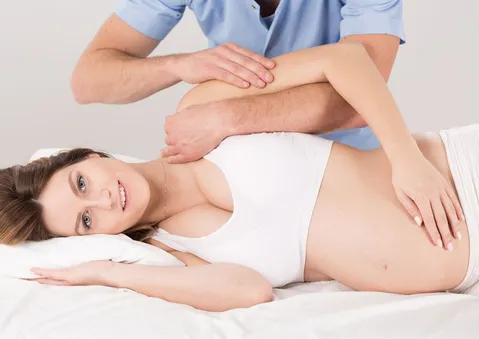 Is Chiropractic Care Safe During Pregnancy?
Chiropractic care is safe during pregnancy for most women. Before you begin treatment, our chiropractor will have you fill out a complete medical history report. From this information, our chiropractor will determine if chiropractic care is safe or if you have health issues that could interfere. In addition, your chiropractor will also want to know how far along you are in pregnancy, as treatments may be modified depending on which trimester you are in.
Can Chiropractic Care Help with Back Pain?
Chiropractic care may help if you have pregnancy-related back pain. Chiropractic adjustments will return the vertebrae in your back to proper alignment, taking pressure off of surrounding nerves and soft tissue. This could help with sciatica symptoms since it can relieve pressure on the sciatic nerve. Over time, chiropractic adjustments will relieve your pain, restore your range of motion, and enhance your body's natural healing process.
Can Chiropractic Care Help with Other Pain?
Our chiropractor can also perform manual manipulation to help with pain in other parts of your body, including your hips and joints. Adjustments on these parts of the bodywork in the same way – they take pressure off the nearby soft tissue and nerves.
Can Chiropractic Care Help with Delivery?
Chiropractic care has been known to help ease the pain of delivery and make the process easier. Chiropractic adjustments can assist in establishing pelvic balance, increases the amount of space your baby has to grow. When you see a chiropractor during your pregnancy, you increase your chances of having successful natural childbirth since it can relax muscles in your pelvic floor.
Our chiropractor will use modalities that assist in managing your stress and pain before labor and delivery and may be able to shorten your delivery time. As you can see, though, chiropractic care may be able to make your pregnancy comfortable and stress-free.
Visit Our Chiropractor in Secaucus, NJ, for Pregnancy Chiropractic Care
If you are looking for a pregnancy chiropractor in Secaucus, NJ, contact ChiroLove Spine & Wellness Center today at (201) 293-4697.