Children can reap many benefits from seeing a family chiropractic professional here at ChiroLove Spine & Wellness Center in Secaucus NJ. However, many parents are unaware of these benefits and/or have questions about the safety of pediatric care as it relates to chiropractic care. So, our family chiropractors have put together a list of commonly asked questions to help put your mind at ease.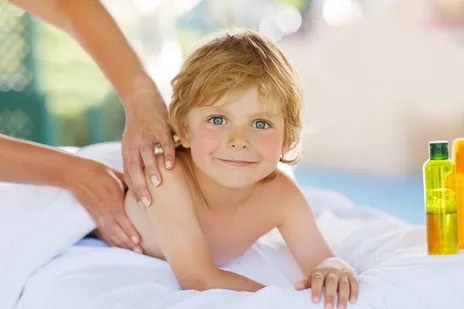 What Is Pediatric Chiropractic Care?
Chiropractic care is a natural way to treat musculoskeletal pain. No medication is involved. A chiropractor utilizes an assortment of holistic techniques and therapies to treat and relieve the pain you're experiencing that has been caused by joint, muscle, tendon, or ligament injuries, helping your body heal naturally. Chiropractic care for kids specifically can help boost their immune health, improve their coordination, reduce pain from sports-related injuries, and promote natural healing from injuries for a faster overall recovery.
How Is Chiropractic Care Different for Children Than Adults?
Since the musculoskeletal system is still in development during adolescence, a pediatric or family chiropractor in Secaucus NJ must take a different approach to treatment. For instance, a problem may be treated less aggressively than it would for an adult.
What Are the Benefits of Children Seeing a Family Chiropractor?
Since chiropractic treatments are non-invasive, all-natural, and completely drug-free, you never have to worry about the risk of your child getting addicted to pain medications. There are no side effects to natural treatments for kids.
What Kind of Conditions Can a Chiropractor Focused on Pediatric Care Help Treat?
Our family chiropractic professionals can help treat a variety of conditions in children, including allergies, asthma, ADHD, ear infections, colic, colds and flu, sports injuries, growing pains, headaches, and even bedwetting.
What Techniques May Be Used During Treatment?
Depending on the exact needs of your child, our pediatric care chiropractor may use a variety of treatment treatments, including chiropractic adjustments to balance your child's skeletal system, massage therapy to relieve tension on the muscles and improve flexibility, therapeutic exercises to improve coordination and strengthen the muscles, and even nutritional counseling to help your child develop healthy eating habits.
Schedule an Appointment with Family Chiropractor for Pediatric Care in Secaucus, NJ
By working with an experienced pediatric care chiropractor, you can rest easy knowing that your child's chiropractic treatments are both safe and effective. At ChiroLove Spine & Wellness Center in Secaucus NJ, our family chiropractic professionals welcome you to be as involved as possible in your child's chiropractic treatments. Call us today at (201) 293-4697 for more information or to schedule an appointment with our chiropractor.